Friday, September 9, 2011, 6 – 9pm
Batey Urbano
2620 W. Division
Chicago, IL
Batey Urbano Presents: "For the people who struggle"
Matt Mcanna is a student at Columbia College Chicago.  The documentary, For Those Who Struggle, began as a class project during the 2011 Spring Semester. Well received by his class and professor, Mcanna extended the scope of the video.
Oscar López Rivera is one of the longest held political prisoners in the world. He has been incarcerated since 1981 in U.S. prisons for struggling for Puerto Rican independence. Unfortunately, not enough is known about Oscar, his life and impact on Puerto Rico and the Puerto Rican/Latino community in Chicago. This short documentary hopes to stimulate conversation and for his release. Free Oscar!
For more information visit: boricuahumanrights.org.
Also, the documentary is archived online here, though I strongly recommend attending the screening.
For those of you who are new to Public Transit you could use the public transit tab on google.com/maps.
OR ride either the Red or Blue line train up to Division.  Hop on a #70 Bus West.  Hop off at Rockwell.  See you there.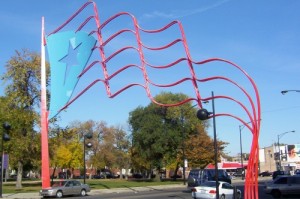 Related Articles:
The Best 5 Cameras for Documentary Filmmaking
Top DSLRs for Documentary Filmmaking
List: The Best Books About Documentary Filmmaking
10 Funniest Documentaries of All Time
5 Must-Have Documentary Filmmaking Accessories