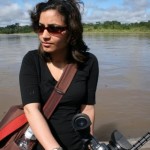 If you're familiar with the Documentary program at Columbia College Chicago, then you've probably seen, heard about, had as a sub, and or had as a teacher Anu. Born in New Delhi, India, she's had many roles on many films, both narrative and documentary. In addition to her teaching duties and involvement with Viva Doc, she continues to be a documentary filmmaker.
I spoke with Anu to grab her perspective on a number of topics and her humble beginnings in film.
Staygosh: I know that you from India to here (Chicago), but fill in the gap in between. How did your journey lead you to Chicago?
Anu: That's actually a pretty long story, so to shorten it, I got my undergraduate degree in mathematics, and while I was doing that I did a lot of social work, which was primary field research, and then I realized that I hated math, so I decided to go into journalism. Once I was a journalist I was writing feature stories, so essentially a lot more research, sometimes months of research for one story, and after a year and half I realized I wanted to put the stories on screen. So I did my masters in India in mass communication, and eventually applied for documentary MFA at Columbia College Chicago.
S: And here you are.
A: And here I am. One of the reasons I applied to Columbia was because I didn't really have a film background; it was more video/television. CCC was one of the few four-year programs where they start you from scratch.
S: Was it a gradual transition, to go from television to documentary?
A: No, it was actually pretty abrupt. I started my MA in 1999 (In India) and as part of that we did internships. I worked in Mumbai for television as producer, assistant producer and assistant director for games shows and quiz shows. (Laughs) It was the craziest thing ever! One of them was a word game show, a trivia show, and I realized that being AD (assistant director) meant writing out all the questions for the contestants and that was terrifying, I thought that wasn't my job, I thought my job would be more technical. I didn't really enjoy it that much. I also interned for day soaps. (*As in Soap Operas) and I didn't like that all. But my last internship was for a documentary production house, and what we did was the behind the scenes for The Indian International Film Festival in 2000, which was awesome. I was there for all the interviews conducted, and was also assistant editor.
S: How did teaching come about?
A: I've taught a lot before, except I was teaching math to high school students and English to students that came from lower economic backgrounds in India. My mom did that a lot, she still does that. India is different in that people have a lot of domestic help, and my mom would watch all these children from the neighborhood. I would get home and there would be eleven kids sitting studying; that's what got me into teaching. Also there was a program that was started by the Indian government called "each one teach one" which was them trying to increase the literacy rate. Part of our high school graduation requirement was to teach a student who couldn't afford to go to school. In the end the kid learned something, so I think it worked out.
S: What could you say to someone who wants to gain experience in the documentary field?
A: For someone who is completely new to it, I would say to get on as many documentary shoots as possible and take on crew roles. So not just hanging out or following them around, but stepping up to the plate and saying " Could I do sound?" even if it's your first time. There will be people that will teach you the basics, and you can ask questions. So being involved is the best way to learn, especially for documentary.
It's really important for you as a documentary filmmaker to feel comfortable shooting and doing sound because you won't always find the perfect crew, and even if you do, there will be situations where your subject won't feel comfortable with a crew, so you need to feel comfortable as well, or you've lost an opportunity.
S: Now was that something you learned from the grad program, or something you found out?
A: I think the classes have changed since I was a grad student here. The documentary center, years ago, was very auteur based, you were making films by yourself. But now we're promoting the idea of documentaries with collaboration, which is great. You don't need to be a one-person band. You don't have to do everything by yourself. You need to know how to work with people.
S: Do you feel Doc films have something that narratives don't?
A: Yes, I think fictional narratives and documentary narratives both have things that people like. You hear it all the time, "the suspension of disbelief", where you can go into a movie and know it's a movie and that's very freeing. But even yesterday I was talking to someone who said they wanted to make documentaries entertaining. So I don't think that fictional films are the only ones that can be entertaining. People gravitate towards documentaries because they're activists or they're looking for something that's real. Whether they do or not, I am not sure, but they have the illusion around them that they're more real.
S: Could you talk about the thesis films that you made?
A: My thesis film started off being about women boxers in India then began to focus on two women, two Muslim women boxers. One of them was the first Muslim women in India to ever take up boxing. I started to research and found an article on the BBC online and it was about the person who would become my main character. I tried tracking her down; it took me a few months. We shot in two locations, in Kolkata and Kerala. Sort of like Chicago and LA (*In terms of distance). And While I was there, that's when the Tsunami hit Kerala (*In 2004, A Tsunami hit southern India killing thousands). So by the second day of the boxing competition, a hundred people from the town we were filming in had died. It made me rethink what I was doing. "Ok, I'm making a film about boxers and people are dying, should I follow that story?" I don't think I am the type of documentary filmmaker that likes following misery. And the media was talking to all the family members of the people who had died, I couldn't see myself doing it (*Interviewing the victims) without being in a position to help in some way.
S: Now you'd talked about people's misery, do you feel that's a thread that is abused in documentaries?
A: I wouldn't say abused. I would love to go back and make a survivor story and follow a character through the situation and see where they were now. But being there for six days doing this boxing story and to take off on another story, that was not something I wanted to do.  Having worked as a journalist before that was what I was doing. It shouldn't be such a spur of the moment decision that you don't stop to think about why you're following that story.
S: So that's a focal point for you, the "why"?
A: Yes.  It's really important for me as a filmmaker to know what my intentions are, because if I'm not clear on why I want to do it, it's very hard to be passionate about it.
S: What's Viva Documentary about?
A: Viva Documentary is a student documentary organization at Columbia College Chicago. We've been around for over ten years. We host events, screen films and have panel discussions.
S: So it's a group that does a little bit more than just watching films?
A: Yes. Viva Documentary is a group that's a little more than just watching films. We like to watch films, but we like to make films. We like to get together and crew each others films. We'd love to bring in more filmmakers and talk to them about how they make films. One thing we're hoping to do this year is to reconnect with our alumni, specifically those who went through the documentary program and the doc center. We want to start up a mentorship program, and we're also trying to highlight our faculty. Columbia College has a lot of faculty members that make documentaries, so we'd like them to come in and talk to students. We're trying to create an environment where students can ask a lot more questions about what documentaries are and what making documentaries means. Even just the nitty gritty of 'How do you do this?' How to shoot, how to light an interview. We're trying to create an environment where students can feel comfortable asking those questions and then do it.
S: Can you talk about the ISDC?
A: The International Student Documentary Competition (ISDC) was founded by Russell Porter in 2003. I'm the coordinator for the ISDC and Viva Doc is hosting it.  This is our first year after a hiatus of five years, and we received fifty two entries from all over the world; Australia, New Zealand, Germany, Canada. S. Africa, Cuba and all over the United States.
S: That's a lot of mail.
A: That is a lot of mail. We did get a lot of queries about the competition, about entry fees and how they could send it. We charge twenty dollars per entry because Viva Doc has no budget. So the money that comes in is essentially the money we're giving out as the prizes, and prizes are five hundred dollars for each category. We hosted a fundraiser in the spring and are going to host another one in the fall to make up the difference.
S: Going back to what you were saying about people giving you their films. That's drastically changed over the past 10 years, distributing a film or showing a film. Would you have thought that 10 years ago you'd be able to click a button and stream a movie?
A: Not at all. Ten years ago watching a documentary in a theater was hard enough. The last ten years have changed a lot. People have almost called this decade "The Documentary Decade" cause it did revolutionize a lot of ways that documentaries became mainstream. But within those 10 years the past four/two years have been amazing for distribution of documentaries. They've changed thanks to Netflix and other online sources. I was online last night and they have an amazing amount of documentaries. Those have definitely made it easier to watch documentaries. The one thing I'd like to see more of is short documentaries. * * * * *