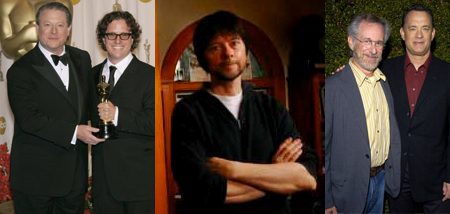 (Left to right: Al Gore, Davis Guggenheim, Ken Burns, Stephen Spielberg, Tom Hanks, each of which played a role at the Democratic National Convention this year.)
Tens of millions of Americans watched the Democratic National Committee Convention (DNCC) this year from Denver. And although most people were focused on the historical nature of the nominating convention, there were actually several short documentaries that were featured.
While it's typical to screen short intro biographical videos before high profile speakers take the stage at these events, they're usually produced by the campaign's advertising firms, not big name doc-makers. But, in an interesting development, the DNCC this year featured polished documentaries by Steven Spielberg, Ken Burns, and Davis Guggenheim.
Guggenheim, who is best known for his 2006 doc An Inconvenient Truth directed a short biographical documentary on Obama which aired before he took the stage in front of over 80,000 Americans in person and millions watching at home.
Burns, who is best known for his epic PBS documentary series, produced a powerful biographical documentary about Senator Ted Kennedy (D-MA), which also aired before he took the stage.
And although Spielberg is more known for his fictional work he's directed nonfiction before, including a 2000 Emmy-nominated television documentary Shooting War, about Armed Forces cameramen, which was hosted on-screen by Tom Hanks. Hanks reprised his role as host in Spielberg's doc, which was about honoring veteran's service, particularly in Iraq.
All three of the docs were quite well done and broadcast on primetime national television simultaneously on different networks covering the convention. Audience menbers could be seen tearing up in reaction to the stirring short films.
Watch Guggenheim's documentary about Obama on YouTube here.
Watch Burns' documentary about Kennedy on YouTube here.