One of the advantages of being involved with Viva Doc is meeting industry professionals and other great networking opportunities.
Recently, Viva Doc is proud to announce that a number of our current members and alumns have found themselves interning and even working for esteemed, award-winning documentary production companies (including Towers, Kurtis, and Kartemquin).
Viva Doc alumns Naomi Kothbauer, Jeff Perlman, Mary Horan, Patrick Lile, Jonathon Vogel, and Orion Pahl are among some of those who have interned with Kartemquin Films.  Jeff was recently hired on  for part-time outreach work, and Patrick has been also hired on to do outreach for The Interrupters, a new film from the makers of Hoop Dreams which is already being called a potential Oscar contender.
We interviewed Naomi Kothbauer (last year's Viva Doc president) about her experience interning for Kartemquin Films.  If you are considering getting an internship, there are some great tidbits of advice below.  And as always, please come to our meetings this semester for more workshops and networking events that can prepare you for an internship.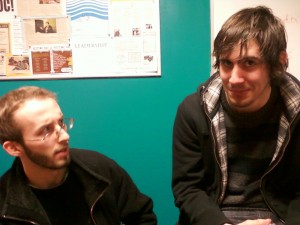 Viva Doc: So, tell us about your general experience with internships?
Naomi: Well, I've had three so far…my senior year, I interned at Towers and Kurtis, and I just wrapped up a summer internship at Kartemquin.
Viva Doc: What is the internship application process like?
Naomi: Well, it really depends on the place.  No matter what, though, it's important that you follow the directions they supply.  Deadlines, references, application forms…all that.  Violate anything and you are automatically disqualified.  Internships are highly competitive, so if they see something wrong, they will usually toss that application just to thin out the pile.  Same thing with film festivals, usually.  And as far as Kartemquin is concerned, I (and many others) had to apply twice or even three times to finally get an internship.  The first time I applied, I didn't even get an interview because over 200 people had applied for just 5 positions.  So, don't get discouraged if you don't get a call back after your first time applying somewhere.  Just consider it to be a chance to strengthen your resume for the next time you apply.  The more you apply, the more they know that you're really serious about the internship and about committing yourself to their work.
Viva Doc: What did you like most about the Kartemquin internship?
Naomi: There was so much, honestly.  In general, internships can kind of drag when you're stuck doing a lot of the tedious work, but with Kartemquin, they tried to get the interns involved with a lot of different processes.  I got to go on shoots, transcribe, help with social media/marketing/PR, and every week they had workshops where the interns got to learn from Kartemquin filmmakers.
Viva Doc: What are you experiences with internships and pay?
Naomi: Well, due to the economy, most internships don't offer pay.  But it's important that you communicate clearly with them from the get-go so that you reach a mutually-beneficial agreement.  You interning is important, but you working and being able to pay your bills is also important.  Especially if you're interning, working, and taking classes…try to not overdo it.  You'll get burnt out really fast.
Viva Doc: What kind of advantage has Viva Doc given you and others when it comes to getting internships?
Naomi: Well, Viva Doc has always offered a lot of opportunities for students to interact with people working in the field.  Networking is so important.  Also, Viva Doc has hosted a few industry professional peer-review sessions where professionals come in and rate student films, and so far many of the Viva Doc members who have shown their films to Kartemquin folks have also gotten internships there.
Viva Doc: What are some tips for those who are looking to build their resumes/filmographies?
Naomi: One of the best things you can do is to consider yourself a brand.  You're essentially selling yourself to them, so think about what kind of imagery you want on your website, your resume, your business cards, etc.  It should be unique and speak of your skills.  Also, for those folks who don't have a lot of work or film experience, just think about the transferrable skills you learned from various things and infuse that language into your resume.  For example, I worked as a shift manager at McDonald's in high school, so in my resume I put a short description like "managed a diverse group of people and helped them perform their best in a high-stress environment."  I told them what I accomplished at that job, not just what I did.  Nobody cares that I made burgers or handed food out of a drive-thru, or at least, not literally.  My accomplishments, however, could be easily related to a film/production environment.  If you're looking to get an editing gig, try to highlight your organizational skills, no matter the job.  If you're looking for something that involves a lot of interpersonal interaction, try highlighting social skills and group settings in job descriptions.  You know, that sort of thing.
Viva Doc: Thanks for your feedback, Naomi.  We hope to continue our tradition of connecting Viva Doc members to internship and job opportunities!