Documentaries are primarily made to educate and entertain.  But in some special cases, the impact of their content goes much further.  As faculty member Jeff Spitz would say, "The outreach and impacts from a documentary film can ripple across a decade or more, inspire congress and move mountains."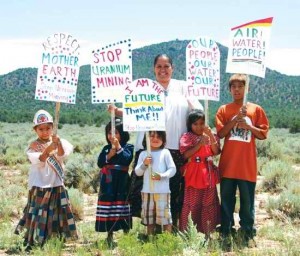 Jeff's feature documentary "Return of the Navajo Boy" has been out for a few years now.  It was featured at Sundance in 2000.  But even with the actual film complete, Jeff and his staff at Educational Films (including Viva Doc alums Arlen and Mitch) continued documenting the challenges in Navajo country (mainly, the pollution and sickness caused by local uranium mining).  They spread the word through screening the film at community centers and periodically uploading new video content to the website and Facebook page to keep audiences engaged.
Finally, just over 10 years after the film was initially released, the EPA has announced that they are going to clean up Monument Valley (where the film primarily takes place) and compensate the featured Cly family for the costs incurred because of the pollution. An article from Navajo Times with more information can be found here.
Certainly, the story of the film and the events inspired by it are remarkable.  They remind us that when an issue, and the story around that issue, are strong enough, it is our duty as documentarians to continue harnessing our filmmaking powers to promote social change.  It takes a lot of work and a lot of time, but the results are priceless.
Jeff Spitz currently teaches two documentary classes at Columbia: Documentary Research & Writing, and a documentary topics class called Chicago: My Kind of Town.
You can watch the trailer for his film here: