By R. Patrick Lile
For years, ESPN had been relatively absent from the sports-doc scene, but after the 2008 release of Dan Klores's Black Magic, ESPN saw an opportunity to make a statement. Black Magic examined the struggle for civil rights told through the eyes of basketball players at Historical Black Colleges and Universities. This four-hour documentary resembled something closer to Eyes on the Prize than any previous documentary shown on ESPN. Yes, basketball plays an extremely important role in the film, but the sports angle is merely a vehicle to talk about a social movement that changed the United States.
After the film's broadcast, ESPN.COM columnist, Bill Simmons, thought the network had to continue to push outside their normal comfort zone and make sports documentaries that explored more than just box scores and highlights. Instead of ESPN hiring a director to create a film that was cooked up by some network executive, they would seek out some of the most renowned filmmakers and television personalities to make the films of their choosing. The gamble was: if ESPN gave full artistic freedom to these documentarians, then the end product would be personal and transcend the world of sports. The 30 for 30 series would be thirty stories "detailing the issues, trends, athletes, teams, rivalries, games and events" over the last thirty years, since ESPN's birth in 1979.
Nearly a year later, the series has aired nineteen of a now scheduled thirty-two docs and the series has covered everything from rotisserie baseball, to NFL marching bands, to the dangers of BMX biking. Like with any documentary, it helps to have an interest in the subject in order to maximize your viewing experience. In other words, if you are a fan of documentary films, but have absolutely no interest in the world of sports, 30 for 30 is certainly not appointment television. On the other hand, some of the films in the series have been so incredible that whether or not you know what a cross-over dribble means or whether you are as clueless as I am when watching rugby, the films still manage to transcend the world of sports and touch a nerve in nearly any viewer. As I have watched each film in the 30 for 30 series, I try to approach my viewing from both the sports fan's perspective, as well as from a documentarian's stance. I've tried to breakdown the series for those that aren't sports nuts, but are looking for a good doc to watch. Otherwise, a new film in the 30 for 30 series premieres every Tuesday through November 9th with all films available on iTunes for $5.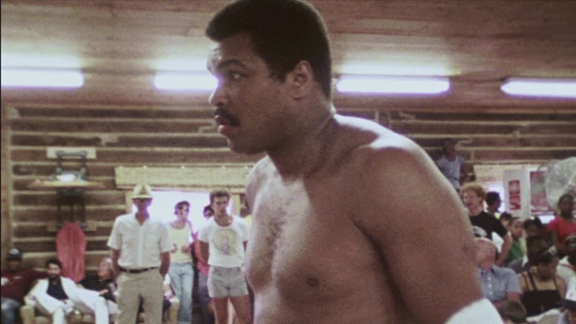 THE BEST – By Order of Air Date
Muhammad and Larry – dir. Albert Maysles
Captured on film by Albert Maysles – the Babe Ruth of documentarians – was the first signs of Muhammad Ali battling Parkinson's Disease. In 1980, Albert and his late brother, David, shot and edited the training sessions of the former champ, Ali, as he came out of retirement for one last shot against the young champion, Larry Holmes. The fight is a blood bath as Holmes destroys Ali from the opening bell until his corner throws in the towel in the 10th round. Because of the fight's depressing outcome, showing a hero being destroyed, no distributors were interested in the Maysles' film back in the early '80s. Now three decades later and re-edited, the footage is priceless, as we bare witness to the beginning of a heroes end.
Without Bias – dir. Kirk Fraser

Fraser's film chronicles the 1986 death of college basketball star and newly drafted Boston Celtic, Len Bias. While basketball plays a very important part in this film, Len Bias's death transcended sports in a way that no other athletes death had ever before. For most people growing up in the mid-80s, the name Len Bias meant one thing: Cocaine Kills. Bias's cocaine overdose led to federal mandatory sentencing for drug possession cases that effect the courts to this very day. While Muhammad and Larry is a tragedy of a hero breaking down, Without Bias is a tragedy of a young man who became an example of the perils of youth.
No Crossover: The Trial of Allen Iverson – dir. Steve James

Filmmaker Steve James tells a story more about his hometown of Hampton, Virginia than he does about former NBA All-Star, Allen Iverson. In 1993, Iverson, then the top high school basketball player in the country, was convicted for his part in a racially charged fight at a Hampton bowling alley. What unfolds is a story of race and how it has separated a town that was founded as a port-of-call for 17th Century slave ships.
The 16th Man – dir. Clifford Bestall, Lori McCreary, and Morgan Freeman
Essentially, the true story of the film Invictus. In 1995, South Africa was host to the Rugby World Cup, the first major international event on South African soil since the end of apartheid. With racial harmony in the country being far from reality, President Nelson Mandela and the South African Rugby team formed a bond that would bring the entire country together. This film shows the true spirit of sports, how a silly game can bring an entire country together.
June 17th, 1994 – dir. Brett Morgan
The day O.J. Simpson made a run for it. Told with no narration and only with archival footage, Morgan cross-cuts O.J.'s white Bronco chase with the day's other sports headlines: a pivotal NBA finals game between the Knicks and Rockets, Arnold Palmer's final round at the U.S. Open, the New York Rangers' Stanley Cup parade and the start of the first FIFA World Cup on U.S. soil. This would be the day that Simpson would cease being a sports icon and become a notorious celebrity of a different kind.

The Two Escobars – dir. Jeff and Michael Zimbalist
Colombian soccer player Andres Escobar was a leader for his highly touted Columbian World Cup Soccer team. Colombian drug lord Pablo Escobar was a hero to many of Columbia's poor, but a murderous tyrant to many others. The Two Escobars details the dangerous world that both men lived and died in and how Colombian soccer and drugs intersect. The uplifting power of sports captured by The 16th Man is far removed in this film, as we see how stupid human beings can be when it comes to a silly game.
GOOD SPORTS DOCS – worth a view if you area bit more into sports
The Band That Wouldn't Die – dir. Barry Levinson – The story of the Baltimore Colts Marching Band continuing to play despite having lost their football team in 1984.
Small Potatoes: Who Killed the USFL? – dir. Mike Tolin – The birth, life and death of the United States Football League. Also, Donald Trump as the bad guy.
The U – dir. Billy Corben – Two hours of the showboating and dirty play of the University of Miami football team. If you have no interest in college football, stay far away from this one.
Winning Time: Reggie Miller vs. The New York Knicks – dir. Dan Klores – Reggie was a thorn in the side of Knicks fans and he loved to play the villain. Operatic at times, Winning Time is a fun doc for NBA fans.
Guru of Go – dir. Bill Couturie – This one almost made my BEST list, but I think you either have to be a college basketball fan or at least remember the death of Hank Gathers to really enjoy this film as much as I did. Gathers was a phenom and led the country in scoring and rebounding as a junior at little Loyola Maramount. In his senior year, he tried to play through a heart condition, but ended up collapsing and dying during a game.
The Birth of Big Air – dir. Jeff Tremaine, Johny Knoxville and Spike Jonze – I had low expectations for this one going in, but when Mat Hoffman ramps his bike 30 feet in the air and ruptures his spleen as he crashes to the ground, you have to be mesmerized.
OKAY SPORTS DOCS – for die-hard sports fans only
Jordan Rides the Bus – dir. Ron Shelton – A puff-piece that looks back on Michael Jordan's one season playing minor league baseball.
Kings Ransom – dir. Peter Berg – The 1988 trade that sent Wayne Gretzky from the Edmonton Oilers to the L.A. Kings.
Straight Outta L.A. – dir. Ice Cube – How gangsta rap and L.A. Raiders gear became synonymous with one another.
Silly Little Game – dir. Adam Kurland and Lucas Jansen – The birth of the first rotisserie baseball league by some of New York's most successful book editors.
Run Ricky Run – dir. Sean Pamphilon and Royce Toni – An examination of how Ricky Williams turned his back on the NFL. Was it depression, anxiety, or his love of smoking weed?
The Legend of Jimmy the Greek – dir Fritz Mitchell – A look at controversial football oddsmaker, Jimmy the Greek.
2010-08-31