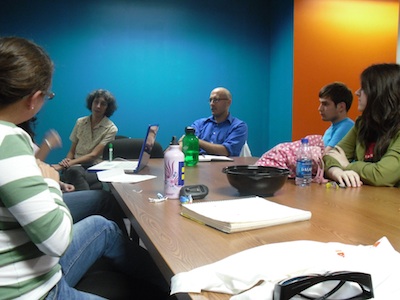 Nobody is quite sure how old Viva Doc actually is.  The Michael Rabiger Center for Documentary has been in existence for over 20 years, so it's usually presumed Viva Doc, a student org for doc lovers, has been in existence, off and on, for at least 10 years.
…Whatever the exact number, Viva Doc has an impressive track record of events, collaborations, and networking opportunities.  Whether it be hosting Academy Award nominated filmmakers to discuss their film 'Trouble the Water,' producing an independent film about organic farming, or simply having a networking party, Viva Doc has been around to serve the documentarian community.
This year the expectations are even higher.  Viva Doc is reaching outside of the film building, outside of Columbia College, and even outside of the country.  Students from all majors are invited to attend meetings and plan events (more than just film majors love documentaries!).  Viva Doc will be hosting Doxita, a traveling film festival, as well as their own 'Viva Doc International,' an International Student Documentary Competition.  In between these exciting opportunities are, of course, the traditional bake sales and networking nights.
Viva Doc's first official event will be a networking party on Thursday, September 30th.  So, whether you haven't been on a documentary set before but are looking to gain experience, or you have a thoroughly developed project that you need an editor for, etc., you are welcome!  It will be from 5:30-7:30 in the Doc Center (the 4th floor of 1104 S. Wabash).
See you there!
-Naomi Kothbauer, Viva Doc President