When it comes to labeling your camera originals, the key is having a consistent format. How do award-winning local nonfiction production houses like Chicago's own Towers Productions label their tapes? Take a look at this rack of DVCAM tapes: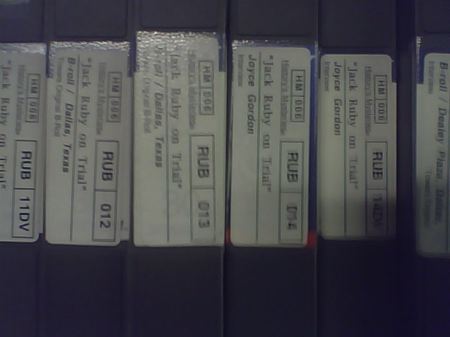 Towers has a huge on-site archive, and they've got thousands of tapes to keep track of, so you better believe they've got a coherent labeling system.
"HM" in the upper left corner refers to the show abbreviation, in this case History's Mysteries, a series that runs on the History Channel. "Jack Ruby on Trial" is the title of the episode, and the show code is RUB (the first three letters of Ruby's name). 013, 14, 015 etc refers to the order in which each tape was shot in. On the spine of each tape case is information about whether the tape contains an interview, b-roll (and what it's of), an event/standup, or archival footage, and who is featured on the tape.