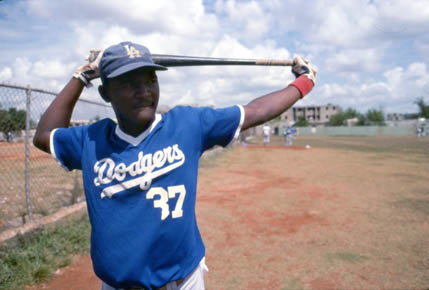 Looking back, I can find all types of moments that may have foreshadowed my love for documentary but if there was a time that truly made me commit to non-fiction, it was my last year at Southern Illinois University in Carbondale. The design of the film program at that time was that you make a choice at the thesis level; make a narrative film in 16mm snyc-sound or a documentary in digital video with the Canon XL1. The year that followed stretched me and challenged me in so many ways that I realized that documentary filmmaking makes you eat, sleep and breathe film in the way that my Production 1 teacher, Mike Covell, talked about in my first real film class. At that age all I wanted to do was change the world and documentary gave me to tools to do so.
My thesis film followed a bus full of immigration rights activists for 8 days as they lobbied and rallied in Washington D.C. with thousands of others from around the country. The Immigrant Workers Freedom Ride marked the beginning of a new civil rights movement that combined the issues of all immigrants instead of just one population. I knew little about all this when I stepped on the bus and I probably never would have if I hadn't taken a leap into something completely foreign to me but I was college so I took the chance.
In a tiny way, getting on that bus was like the immigrant experience. I left home with a few bags and a camera and I lived among a group of people that I knew very little about. Feelings of displacement, helplessness, pride and acceptance were some that I was able to sample during those 8 days and 9 nights. I was different when I returned but I still didn't have the language to articulate my new outlook on life. I was a kid with 30 hours of footage and about 10 hours of experience in non-linear, digital editing. Lily Buroskowski helped me manage the footage and look for the story but it was a grueling 4 months of bad edits and do overs.
It was in this venerable state that I first encountered The New Americans. Steve James, a Southern Illinois alum and Academy Award nominated director of Hoop Dreams, was screening his series, The New Americans during The Big Muddy Film Festival. The film was spread out over 3 days which meant that we were able to watch it the way that Kartemquin preferred. The series still hadn't aired on television and we had the privilege of listening to Steve James, who was there for a Q & A after part 1. I spoke to him briefly about my thesis project and he was very encouraging. The details of the conversation are blurred by my star-struck memory but I'm sure I sounded like a nervous little fanboy so I still appreciate how kind he was.
I couldn't agree more with Kartemquin's claim that The New Americans intimately connects viewers to its subjects. This was the first series that I'd seen that was able to follow immigrant families from their home countries to the United States and one of the largest payoffs to this approach comes in the story of Jose and Riccardo, two baseball players that the L.A. Dodgers recruit from the Dominican Republic.The juxtaposition between Riccardo, an unmistakable talent, and Jose, a poor boy who can play, gives us a wide range of information about why families pin in their hopes to something as fickle as a professional baseball career. There are echoes of this relationship when Jose and Riccardo negotiate contracts with management and are happy to have check for $5,000 for a season while their U.S. born counterparts won't consider playing for under a million dollars.
The Nigerian story of Ogoni Refugees, Israel and Ngozi shows a completely different approach to the story because we are introduced to Israel and Ngozi Nwidor after they've lived for a refugee camp for 2 years and are about to make the transition of starting a new life in America. This storyline requires a backstory to explain the circumstances that brought the Nwidor family, and many other Ogonis, to this point.
Isreal's optimism serves as a reminder of what makes people risk their futures to come to the U.S. A scene where Ngozi and Isreal send a portion of their earnings shows some of the pressure that most immigrant families are under to maintain the image of the American Dream in the eyes of family back at home. Even though they are suffering through hardships, they still have to send money back home and tell everyone that they are doing well.
Watching the Nwidor family experience America for the first time is an amazing thing. When the refugees are first given McDonald's hamburgers it's as if they've finally arrived in the land of opportunity. It's a food that I do everything in my power to avoid but watching Isreal eat one makes me appreciate what it would mean to appreciate it without even knowing what's inside. His excitement to learn what goes on the outside and what is in the middle shows that, like anyone on the brink of change, he doesn't know what he's in for.
The last story that's introduced in the first part of the series is of Naima Saadeh, a Palestinian bride that is determined to leave her small town in the Israeli-occupied West Bank where she has lived her whole life. We get to know Naima as she goes through a typical commute to school. She needs to take three taxi-vans and cross an Israeli checkpoint to get to school. We get some of the back story of the situation in the West Back through letters that her brother, Jihad, wrote to her while imprisoned for his role in the youth movement during the Intifada. I love the scene for it's emotional power, the amount of information communicated and because they allow Naima to break the fourth wall by telling Jihad that "They" asked to see the letters.
The relationship between of Naima and her fiance, first-generation Palestinian American Hatem Abudayyeh, is fascinating because of the differences between the way they view Naima's life. Hatem is offended to see Naima and all of his people have to travel through checkpoints. There's also a scene where Hatem sheds a tear for the story of one of his father's tenants. Naima, on the other hand, doesn't find her story as tragic and seems uncomfortable that her husband is so moved and she isn't.
The tapestry that's woven with these 3 stories creates a depth that couldn't be achieved by focusing on an individual family. However, Kartemquin's approach doesn't cheat any of the characters out of their own complexity. That's why I've found it so easy to find parallels between The New Americans and my own life last time I watch it as well as this time. The issues that are bought out of the lives of these families translate to the lives of anyone that is in transition.
The feelings of displacement that I felt when I was on a bus full of strangers is the same as those that Jose and Ricardo felt when they were brought up by the Dodgers. The helplessness that Isreal and Ngozi felt in trying to advance at their jobs is similar to my having a mountain of footage and no knowledge of how to edit it and the feeling that I had as I neared graduation echoed Naima's experience as she passed her exam and prepared for her new life in America. As the series is rebroadcast, I find myself in a similar transition as I assimilate into the culture of documentary filmmakers and begin a new chapter in my own life. I can't wait to see what this series holds for me this time around.
The filmmakers behind The New Americans will be visiting the Viva Doc online forum soon. To read more about that, click here.