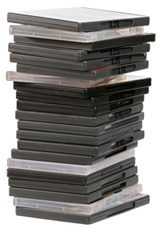 We've all been there. With no late fees, it's wayyyyyyyy too easy to keep a Netflixed documentary for far too long without watching it.
Have you ever gotten one in the mail, only to have it sit atop your DVD player for weeks, eventually just returning it without watching it? It's an easy situation to get into.
At a recent Viva Doc meeting, we asked our members what documentaries were sitting on top of their DVD player, collecting dust. Here are the replies:
Rebecca C writes:
Bus 174 and Tarnation are peacefully collecting dust on my DVD player. Hopefully this break will allow me to finally watch them.
Michael L writes:
The documentary that is on the top of my DVD player is "My Kid Could Paint that." The mystery of this film is that I see all these paintings on the back that this little girl did or didn't do. The front cover sometimes gives me the creeps if I pass it on my way to the midnight snake fridge.
Tristan S. writes:
On top of my VCR/DVD player is…

Sound and Fury: Doc about deaf families' debates about whether to have their deaf children use cochlear implants that would allow them to hear.

Heartbeat Detector: French fictional film starring my favorite actor, Matthieu Amalric.

Chicago: City of the Century: American Experience: Disc 2.

In the Realms of the Unreal: Doc on Henry Darger, janitor, visionary artist, novelist and very disturbed man.
Cassie B. writes:
Taxi to The Darkside has been on top of my DVD player since it was released on DVD a few months ago. I haven't had time with this busy semester, but can't wait to get to it soon!
Mitch W writes:
The movie that has been sitting on my dvd player for two months is the documentary 10mph. The disc came cracked and I haven't bothered notifying Netflix then returning it. I think I haven't return it yet, because they will send me another copy and I really don't want to watch the movie anymore. It is about a guy who goes across the country on a Segway. What was I thinking when I was browsing Netflix….it must of had an interesting caption or something cool….now it just blends in with the gray of my dvd player.
Adora W. writes:
Okay, right now on top of my DVD player is the documentary For the Bible Tells Me So, which I've had for, like, a month now. Oh, Netflix and your lack of late fees. Sigh.
Arlen P. writes:
What's currently sitting on my DVD player is a 2007 documentary called "War Made Easy." Apparently, it's about how easily Americans get tricked into rooting for wars. I haven't gotten around to it unfortunately because I'm so darn busy with school.
Have you seen any of these docs? Or been in the same situation? Leave a comment and tell us whether the person should bother watching it, or send it back…